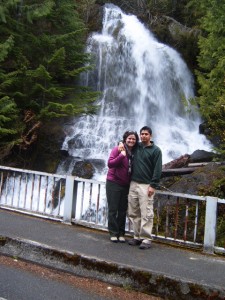 We are a Panamanian-US couple with a young son. My husband, Celestino (Cele), grew up working on his family's farm in a tiny town about two hours from Santa Fe, in the province of Veraguas.   I'm from California, and we met while I was a Peace Corps Volunteer – teaching environmental science in the three roomed schoolhouse in his home town.
We've spent the last decade in the states, where I spent most of my professional career as a research ecologist, though I started out running a visitor center for the US Forest Service and worked as a  park ranger for both the state and national agencies. Cele worked at a sawmill and soil production been finishing his AS certificate program. We started playing around with ideas that would permit us more flexibility with travel, family and our own interests.
We developed the idea of Coffee Mountain Inn, a country hotel with tours that would focus on what we know best, Panama like the locals know it, forests like the ecologists understand it, and agriculture like the rural farmers practice it.   We have small coffee plots, but only produce about 100 pounds per year.  We opened in 2012.
You can read more about our adventures on a personal note in my blog about Santa Fe, Panama.