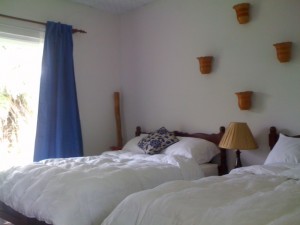 Our six room inn is comfortable, clean, and quiet.  Rooms have a private entrance, bathroom and terrace, with view of Santa Fe National Park (Mountain View) or our interior courtyard (Garden View).  Wi-Fi access is available in common areas and our interior courtyard, but not inside all rooms.
We serve a light breakfast between 8AM – 10AM, usually including a local selection of bread, fruit and eggs.
Rooms are cleaned daily and we have on-site management.  (See more photos)
Online Promotion.  Book ahead and SAVE!

The online rates will be automatically applied to your reservation online if you book through us. Please read our cancellation policy prior to booking.
Rooms

Current Promotional Online Rate

Description

Queen Room
$119
$70* Mountain View

$65* Garden View

1 Queen Bed, Air Conditioning, Breakfast Included
Double Room
$135 – (1-2pp) +$10 each additional person
$80 – (1-2pp) +$5 each additional person*
2 Full Beds (1-4pp), Air Conditioning, Breakfast Included
Traditional Double Room
$99 – (1-2pp) +$25 each additional person
$70 (1-2 pp) +$10 add. person
2 Full Beds and Sofa Bed (1-4pp), Fan Only, Breakfast Included
Holiday Rates increase by $10/room.  For 2015/2016 season, these dates are:  Nov 1-5, Nov 27-30, Dec 23-Jan 6, Feb 6-10, and Easter. * High season rates (Jan – March) increase by $5 per room.  Actual amount is reflected when you make reservation

Promotional online room rates and walk-in rates differ from our standard room rates and are not valid with other promotions or discounts.