We are a small, family run establishment, in a beautiful countryside in a tropical country.   We've found that there are some quirks to small town living –  and have listed some FAQ below
Reception. Arrival and Departure
Our reception area is open from 7AM-6PM, and check-in is from 3PM-6PM.  Checkout is at Noon.
What should I do if I think I might arrive later than 6PM?
Let us know, and we'll send you instructions for self-checkin.  If you don't contact us and you've paid for your room, we'll leave self-checkin instructions on the white board outside the reception area.
What should I do if I think I might not make the Noon check-out time?
Let us know.  In most cases we can either keep your suitcases in the reception area, or allow you to keep your car parked in our lot until you return.
Food
Tell me about breakfast
We serve a light breakfast (Chef's choice), included in your room rate.  We plan and cook for all guests in the morning, but we understand that sometimes people want to eat more for breakfast or have their own preferences.  We accept special breakfast requests where guests can request additional sides/beverages with materials on hand for a minimal fee (usually $1.50-$3.00/plate).  Read more about breakfast.
Where can I eat other meals?
There are several restaurants in town (within a 5 minute walk), in addition to a grocery story and open air farmers market.   Please stop by the reception area for advice or directions.
What's the no hassle meal?
We order takeout for you for $12 per meal (dinner, 2 people min).  It's the daily special from a local Panamanian restaurant with a drink.  Dinner comes around 5:30 and is delivered to your room.  This is popular on the night of arrival, or after a day of hiking.  Let us know at breakfast if you'd like us to order dinner for you.
Our Grounds
Coffee Mountain Inn is located on about 2/3 acre, with a small creek in the back of our property.  We live on property and grow coffee on the slopes to the creek, as well as growing several types of fruits.
What is the rancho?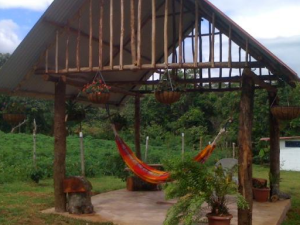 A rancho is an open, outdoor place to relax.  Ours is towards the front of the property.
Can I use it?
Absolutely.  If you are staying with other groups,  it's a great space to use.  It's far enough away from the main building that conversations won't carry to the building…and you should also feel free to ask for extra chairs.
We often tie up the hammocks so that they don't billow like flags in the wind.  If you come out, and the hammocks are tied up, feel free to untie them.
We tend to go to bed early because we get up early to do the farming and gardening.  After building the rancho ourselves, we're so happy when people enjoy it, so feel free to enjoy at night.
What time does the front gate close?
We close the front gate leading to our hotel after dark (7-8), but it is unlocked.  We close it because horses and cows tend to come in and munch on our plants and we want to keep them out.   If you want to drive around at night, no problem, just open it and shut it afterwards.
Internet Access
Where can I access Wi-Fi?
Wi-Fi  is available in our public areas: in the reception area, the outside deck, and in the rancho.  Because of the distance, the signal will not reach each room.
Really, Wi-Fi?
Yep.  But our router uses a 3G or cell phone connection.  There are a couple of things you should know about this: speeds tend to be slower, if the cell signal goes down or we have an electrical outage, the service will go down.
Smoking
The inn, as all inns in Panama is Smoke Free.  This includes inside and outside areas.  This is a strong policy for us, as are its consequences, and we ask for your cooperation in keeping it.   If you wish to smoke, you may do so to the west of the parking lot.    Please ask at reception if unsure of this location.  A $200 cleaning fee will be charged to your credit card for violation of this policy.  In addition, reservations for guests who smoke in non-smoking areas may be cancelled without a refund.
Pets
We do not accept animals at our inn. My sister is allergic to cats.  I remember we could never spend the night with people who had cats for pets or else my sis would break out in hives, have asthma, trouble breathing.  We do understand that many pets can be well behaved and being a dog owner myself for years, understand that they are well loved. However many do have severe allergies and curtains through mattress pads need to be treated after a pet visit.  As such, we do not allow animals in the room.
Additional Persons in Rooms
In single rooms (called so because of the single Queen bed), with a normal maximum occupancy of 2, we can bring in an additional fold out bed for a 3rd person.  Fees for this service and breakfast for the additional person are reflected in the rates at booking.
The number of people in your room must be reflected on your reservation and check-in.   For the safety of our family and our other guests, we do not allow visits from non-registered guests in private rooms.
Retiree's Discounts
Do you offer a retiree's discount?
Yes!  Please be aware, that the Panamanian Retiree's discount is applied to our Standard Rates, and is not valid with our promotional online rates, and can not be combined with other discounts. The discount is 50% on M-Th, and 30% on F-Sun.  This is only applied to your room, and not for food delivery services.
What does this mean?
This means that you have a choice whether to pursue the Retiree's discount or other discounts offered (not multiple ones)- sometimes it will be cheaper to book with another discount, and we only apply one of the discounts to your stay.  Our online reservation system is set up for online promotional rates.   If you want to book using the retiree's discount, please email us.
How else does the reservation process differ for retirees?
We will ask for a deposit (bank or PayPal) to reserve your room instead of the credit card asked for through our online booking system.