The biggest draw of Santa Fe is the outdoors: waterfalls, biodiversity, and rural culture. Santa Fe National Park spans 5 different biomes over Pacific and Atlantic slopes. Home to tropical birds, monkeys and even pumas, the park spans over the Mesoamerican Corridor and continental divide.
Download our compiled Bird List (vers. 5.27.2013)  for the Santa Fe Region.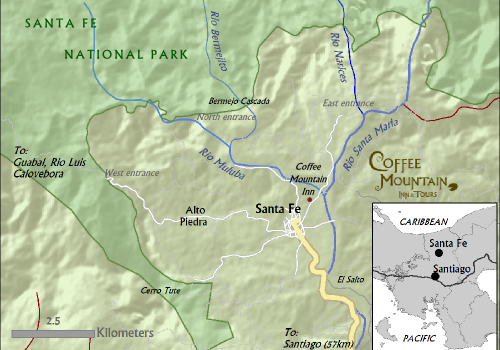 Getting to the Park:
From town, there are four principal access points.
Two require you to walk or ride in by horseback: to the North, where you can see Bermejo Falls, to the East, where you can hike or wander up the amazingly clear river, Rio Narices.
Two have unpaved roads where access by 4X4/car will depend on season (though there are projects to pave roads): To the West the Calovebora road winds through the forest taking you by small villages and petroglyphs, a spur from Alto Piedra (not shown) climbs to the Southwest to Cerro Tute (4×4 or by foot).