Great! So you just signed up for a tour and want to make sure you come prepared. The following are some tips to help you prepare for your activity with us.  In general, our recommendations are to cover up more (pants/long sleeved shirt) when out in Santa Fe to protect from insects, brush, snakes, and sun. To bring water, to wear boots on hikes (we have loaners), and walking sticks are really helpful in extremely muddy conditions (we also have loaners).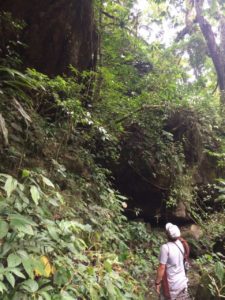 On Hikes
Wear:
Long Pants
Long Sleeved Shirt to protect from brush in jungle, layered over short sleeve/tank top
Socks
Boots (we provide loaner rubber boots, size 37-44, if you wish)
Optional: Rain jacket in case of rain, swimwear in case you want to take a dip
Expect your clothes to get muddy, wet and dirty.
To Bring:
Water
Snacks
Walking Stick (optional)
If you want to bring a cell phone, we recommend putting it in a zip lock bag to help protect it from the water/mud.
For the Night Hike:
Bring a Head Lantern if you have one, this lets you search for nighttime insects and frogs with your hands.
What people don't expect:
Hiking in the rainforest and mud and hills and humidity is a different experience. In the back country, you must go slow, you will clamber down hills, scramble over boulders, wade through rivers.
Horseback Riding
Long pants
Shoes or boots (not sandals)
Clothes to swim in if you want to take a dip
Water
Sunglasses/hat
Optional: Long sleeved shirt to help protect you from the sun while you ride OR rain jacket depending on weather.
Innertubing
Swimwear or shorts& tee-shirt with(optional) long-sleeved shirt to protect from sun.
About 1/4 of the people fall off their tube when going through the rapids, with more people falling off when the river is running fast (usually in our wet seasons).  They get wet and lose car keys, glasses, sunglasses, phones, etc…Don't bring anything you don't want to lose.  For glasses/sunglasses, I recommend leaving them behind, or attaching them with a necklace.
Footwear: watershoes are the best,  if you have flip flops, bring and attach to life vest so you have something to wear entering and exiting the river to the pickup/drop off points. Some people wear light running shoes while tubing.
Wearing a life jacket is required for our tubing trips.
Coffee Farm
Shoes (we lend rubber boots in wet weather).
Longer shorts or pants, to provide less of a target for bugs.
What people don't expect: When we hike on the coffee farm, the terrain is hilly and trails can be muddy. For those in a group with mobility issues, there is a rancho where they can sit while others hike around the farm.