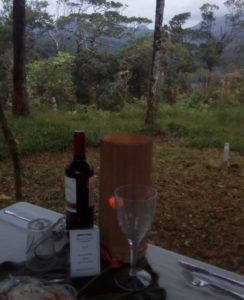 Join us for a magical evening: 6:15PM-9:30PM, RESERVATIONS REQUIRED.  We travel by 4×4 to the region of Alto de Piedra overlooking Santa Fe National Park.  Prior to your arrival, we've set up our outdoor dining area with a covered area in case of rain.   We enjoy an outdoor three course dinner set in the rainforest, then go for a naturalist led, night time excursion to spot night time amphibians, birds, insects and snakes.
Participants should wear long pants, expect to get muddy, and be aware that rain does not cancel.
Cost:  $79 per adult/ $59 per child (ages 3-17).
Departure Point: Coffee Mountain Inn, front terrace.  Please arrive at 6PM to allow us to set you up with boots prior to departure.
On booking, participants will select main course: chicken/beef/vegetarian and accompanying beverages.  There is a slight surcharge for wine (+$3/per person).
Please note, this activity is only offered during high season, December 1 – April 30, and not during Christmas, New Years or Easter. Seats are limited.