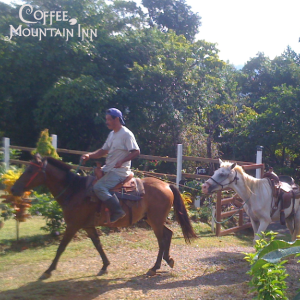 Reservations must be received two days ahead of trip date
Rates
Santa Fe River Loop – Guided $85 for 2 people + $25 for each additional person
Bermejo Waterfall – Guided $95 for 2 people +$25 for each additional person (our most popular option)
Rental Only  $25 –  per person (3 hrs on the road, 1/2 hour check-in/out/orientation)
Can I reserve even if I'm not staying at your B&B?
Yes.
When do Guided Rides Start?
Guided rides begin at 9AM from the inn, unless previously arranged.
When do Rental Only Start and How Much Time do I get?
You may chose an AM start time (between 9-10) or a PM start time (1-2). You may explore up to 3 hrs. All rentals take off from our inn and are self guided.
What Should I Bring on a Horseback Ride?
You should wear comfortable clothes with shoes that you don't mind getting wet or dirty.  I recommend bringing  a small backpack with extra water or fluids.   Bring some cash, so you can stop to buy a soda or snack along the way.  You may leave extra bags at reception.
What if it rains?
Well, it probably will.  We are in a rainforest.  The good news is that heavy rains are often in the later afternoon, and that storms can start and stop suddenly.  In most cases, you will need to honor your reservation in the rain.
What if I don't know how to ride?
We'd be happy to give you an orientation prior to your ride.  Our horses are farm horses, and docile.  Please let us know if you don't understand something, even something that may seem silly -like  how do I get down?
Ummm…how about weight limits?
Panamanian horses tend to be on the small side, but there are a few larger horses as well.  If we ask an awkward question about weight, it's simply so that we find a good match for you.
How much in advance do I need to make my reservation?
2 days
Why  ahead of time?
We started a community horse rental program, with local community farmers, where over 40% of your money goes directly back into their pockets. They lend us one of their horses and get a little cash on the side, you get a good price and an incredible opportunity to explore, and we start a sustainable business that helps people in an honest way.
BUT we don't want you to rent from us just because we create opportunities, but because we provide excellent service and memorable experiences.
2 days allows us to make the necessary arrangements. If you are within this timeframe, please send us an email if you'd like to check on availability. If you're a small group – it may be possible!
How do I make a reservation?
Email us with 1) The option that interests you (River Loop, Bermejo Falls, or Self-Guided), 2) The date of interest, 3) Your group's height and weight.  4) A statement saying that you have read and agree to our Terms and Conditions.
For non-guests, we will reply with a PayPal link.  On receiving payment, we will send you a confirmation email.
For guests, the payment will be applied to your bill, and we will send you a confirmation email.