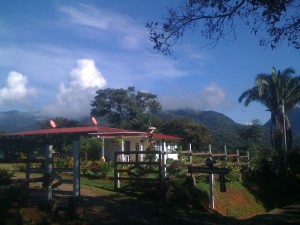 We are an award winning inn with a friendly and peaceful atmosphere, located in the remote mountain village of Santa Fe, Panama with beautiful tropical gardens and stunning views of Santa Fe National Park.
We focus on sustainable ecotourism and have a great and growing reputation for our guides and tours.   We take people to  off-the beaten track waterfalls, hikes, rivers, and farms in authentic explorations of the area, or we can help you plan your own day trip.  We  have comfortable, organized and clean lodging to come back to.
Guests wake up to a complimentary light but delicious breakfast delivered to their rooms with the option to order additional side breakfast items for a small fee.
Santa Fe National Park surrounds Santa Fe on three sides, forming part of the Mesoamerican Biological Corridor.    There are over 20 waterfalls within 3 miles, and several kinds of tropical birds such as parrots and toucans fly overhead.  The district of Santa Fe includes the remote Caribbean coastline to the north.
In the surrounding hills, small, family owned coffee farms participate in the Santa Fe Coffee Cooperative.
We are small and family run. Our rentals and area activities include:
Multi-day trips to the Calovebora, on the Caribbean
Floating or innertubing down the river
Rural farm-to-table (or coffee cup!) tours